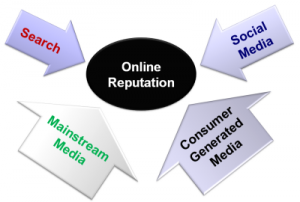 Technology has changed the way we do everything. Now when applying for jobs, employees do a simple Google search in order to learn more about a potential new employee,  their habits, and interests. This is not limited to jobs, it is possible that when applying to dental school, admissions officers could Google search potential students' names to see what kind of results appear.
Coming from a technological background detailed in a previous post, I have had lots of experience Search Engine Optimizing (SEO) websites so they can appear first when specific keywords are searched in Google. For example, when searching for Dr. Paul Binon's website for his dental practice, I have optimized the results in Roseville, CA (where his practice is located) to make his website appear first for key terms that patients may search. Searches like "dental implants in Roseville"  return with Dr. Binon's website as the first result. Very vague searches, like "dental implants," in the Roseville area return with Dr. Binon's website in the fourth position, behind Wikipedia, WebMD, and Perio.org (all three are educational resources to learn more about dental implant, not dentists).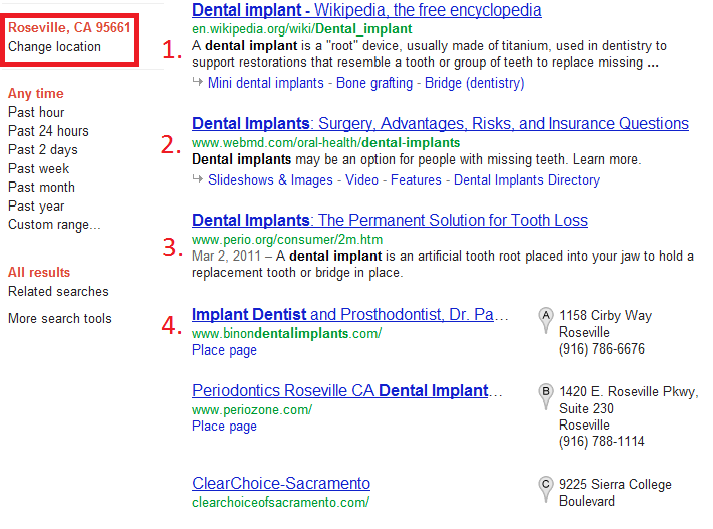 With the social network boom, searching for our names on Google populates a list of almost everything we do on the internet. As a result, I urge every one of you to be cautious of what actions you perform on the internet and what you post. Most of it will end up in the search engines' hands, and if it ranks high enough it could damage your image. A whole new business has opened in which people Search Engine Optimize (SEO) their names. This has recently been classified as its own category of optimization  known as "Reputation Management". Reputation Management is the act of search engine optimizing your name to appear with quality results when searched by others.
I have been working on optimizing my name for a few months. If you search "Elias Almaz" in Google, it will populate a list of results. For many people, facebook will usually be their top result. This is almost unavoidable if you use facebook. It is not bad if you have a Facebook; Almost everybody has one, including my parents and their friends. Those who use Facebook should follow the following guidelines to prevent Facebook from damaging your image:
Visit the Facebook page Google links to (make sure you are not to be logged into Facebook) and look through the information that is displayed publicly to all.  Edit your privacy settings based on what content you want only visible by friends or content okay for public viewing.
Always have display pictures that appropriate for the public to see. Nothing provocative, nothing questionable.
Ultimately, if you do not want facebook to ever show up in searches you can disable "public search" under your privacy settings.
Other social networking sites like twitter will also be on the first page of results. If you no longer use these social network accounts delete or deactivate them.
Join LinkedIn, the social network for professionals. LinkedIn is great to publicly display personal information that is resume-like that can be easily found. Joining the social network will likely add a new, quality, result to your first page on Google. I plan on writing a blog post in the near future about the importance of a LinkedIn account as well as some tips.
Many other good results can show up. I have my blog, www.predents.com,  as well as my current treasurer position in ASDA @ UCI. However, I also have unwanted results like mylife.com, genealogy.com, and reunion.com that I am currently attempting to remove from my Google results.
Visiting the websites on your first page of results can help gauge their quality. If you have any questionable results, you can ask me in the comments section below or email me. I will give you my personal advice on what to do. Last but not least, I want to clarify a common misconception about Reputation Management; SEO take TIME. Deleting something may not change your searches rankings or results for WEEKS or MONTHS. Please be patient, Google has billions of webpages to sift through and rerank every day. Reputation management is a very slow process, but over time, the effort you put in will build a strong digital reputation ready for searches from employers and admissions officers!
Good luck and happy optimizing!