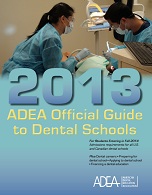 UPDATE 3/24/2014:
The ADEA Official Guide to Dental Schools 2014, for Students Entering in Fall 2015 is now available!
UPDATE 07/09/2013:
The ADEA Official Guide to Dental Schools 2013, for Students Entering in Fall 2014 (online access version) is now available as an eBook for a small fee of $10 dollars! This year, the ADEA has decided that the ebook WILL include the COMPLETE dental school profiles previously exclusive to the $45 physical copy. Because of this major change (making both versions identical) we now recommend purchasing the eBook over the physical copy at a fraction of the price! Please note that ordering an eBook may still take several days to process!
———————————————————-
Are you planning on applying to dental school in June 2014?
Every year the ADEA publishes an Official Guide to Dental Schools filled with comprehensive information on every dental school. This information can be used to help you decide which dental schools you are interested in applying to and all the requirements needed to be a competitive applicant. The following two quotes sum up the book and its importance:
The ADEA Official Guide to Dental Schools is the premier guide to dental education available today. It is an invaluable resource for anyone planning to apply to dental school or exploring a dental education."

-Lori Provost, Past President,National Association of Advisors for the Health Professions, and Director, Health Professions Office, Muhlenberg College
Published annually by the American Dental Education Association for more than 40 years, this handy guide provides authoritative information on every accredited dental school in the U.S., Puerto Rico, and Canada. Prospective applicants gain general information about each school's entrance requirements (GPA, Dental Admissions Test scores, and predental education), application and selection processes, dental curriculum, special programs and services, costs, and financial aid. Quick look-up tables offer cumulative comparisons of individual dental schools' number of applications, total students interviewed and accepted, summary of admission requirements, and origin of out-of-state students. The first few chapters cover opportunities in dentistry, the application process, financial aid details, and lists of useful dental organizations and references. … This informative, low-cost guide is an ideal reference book for most libraries. Summing Up: Highly recommended."

-CHOICE Current Reviews for Academic Libraries,October 2009, Vol. 47 No. 2
Beyond statistics, the book also covers:
Residency requirements
Geographical class breakdowns
What to include in your dental school application essay
Helpful advice and tips for getting into dental school
Ideas for how to pay for dental school
The 2013 ADEA Official Guide to Dental Schools costs $35 (+S&H) dollars. You can purchase online through the ADEA store. Alternatively, you can find the book elsewhere or some of its content in other forms.
Ordering through Amazon will save you the $10 dollar shipping fee that the ADEA charges.
Starting last year, an ebook version of the text has also been provided at a subsidized cost ($10 dollars). However, please note that profiles of individual dental schools are exclusively available in the printed book. The ebook will be available starting in April 2013.
The studentdoctor.net dental forums always compile the information found in the book into easy to use excel documents. Please note this is an unofficial replication and may have errors.
Ask your pre-dental club (e.g. Pre-Dental Society) to borrow their copy. If they don't have one, recommend buying one for their members.
I highly recommend every pre-dental student expecting to apply in June 2013 to look through this book at least once! Please buy it if you can! It will be the cheapest investment for your future as a dentist. Like always, if you have any questions, ask away!
ISBN 978-0-9887106-0-3