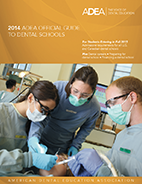 EDIT 4/8/2014: The digital version has been released in addition to stats compiled by the community. More information below!
EDIT 4/2/2014: You can read my review of the new guide book here!
Are you planning on applying to dental school starting in June 2015?
Each year the ADEA publishes an Official Guide to Dental Schools filled with the latest statistics and information on every dental school. The guide also contains comprehensive information about a career in dentistry. This information can be used to help you decide which dental schools fit you and your interests and helps to avoid any rejections due to any unique requirements such as residency or coursework to qualify for the program. This guide is updated through the cooperation of the dental schools involved and the ADEA (the organization that operates the AADSAS application system) based on the  first year dental school class at the time of publication. This year, this data is based on the 2012-2013 application cycle which wrapped up nearly a year ago.
Published annually by the American Dental Education Association for more than 40 years, this handy guide provides authoritative information on every accredited dental school in the U.S., Puerto Rico, and Canada. Prospective applicants gain general information about each school's entrance requirements (GPA, Dental Admissions Test scores, and predental education), application and selection processes, dental curriculum, special programs and services, costs, and financial aid. Quick look-up tables offer cumulative comparisons of individual dental schools' number of applications, total students interviewed and accepted, summary of admission requirements, and origin of out-of-state students. The first few chapters cover opportunities in dentistry, the application process, financial aid details, and lists of useful dental organizations and references. … This informative, low-cost guide is an ideal reference book for most libraries. Summing Up: Highly recommended."
-CHOICE Current Reviews for Academic Libraries, October 2009, Vol. 47 No. 2
Details on the bonus chapters have not been released yet, however it is presumed to closely follow the 2013 guide that contained the following bonus sections.
Residency requirements
Geographical class breakdowns
What to include in your dental school application essay
Helpful advice and tips for getting into dental school
Ideas for how to pay for dental school
The 2014 ADEA Official Guide to Dental Schools costs $35 dollars (+S&H). You can purchase online through the ADEA store. Alternatively, you can find the book elsewhere or some of its content in other forms.
The physical version of the book is complete and orders placed now will be fulfilled immediately. Shipping cost can vary depending on your location (Continental United States is $10).
Starting last year, an ebook version of the text has also been provided at a subsidized cost ($10 dollars). You can purchase this year's ebook from the ADEA. Please note this book requires an internet connection and expires on March 31, 2017 (3 year subscription).
I have confirmed with the ADEA that the ebook will be available within the next few weeks (April 2014). UPDATE 3/31/14: Ebook will be available April 7, 2014.
The studentdoctor.net dental forums often compiles some of the information found in the book into easy to use excel documents. Please note this is an unofficial replication and may have errors and will not be available immediately. Latest rankings compiled by user Doc Toothache can be downloaded here.
Ask your pre-dental club (e.g. Pre-Dental Society) to borrow their copy. If they don't have one, recommend buying one for the organization and its members.
I highly recommend every pre-dental student expecting to apply in June 2014 to look through this book at least once! Please buy it if you can! It will be the cheapest investment for your future as a dentist. Like always, if you have any questions, ask away! A copy of the 2014 Official Guide to Dental Schools is on its way and I will hopefully receive it within the next week. I plan to do a review of the book if any sections have significantly changed.
If you're exploring dentistry or advising prehealth students, then you need the ADEA Official Guide to Dental Schools, the most authoritative guide to dental education on the market.

Published for 46 years
The only resource on dental education developed directly by dental education professionals
Updated annually

Includes:

Tips for preparing and applying to dental schools from the pros
Insights into how the admissions process works and picking the school that's right for you
Individiual profiles of all 68 dental schools in the United States and Canada
An overview of the dental profession, including career and specialty options
Financing a dental education
UPDATE 3/31/2014: Official Information Page now updated. Contains a thorough outline of all the sections. Book just arrived today and will be reviewed within the next week (hopefully before the ebook is released).
ISBN 978-0-9839001-2-2