SmileTrain recently partnered with BioDigital Human to create a free of charge Virtual Surgery Simulator for dental/medical professionals. For those that do not know already, SmileTrain is an organization focused on finding children in developing countries who are suffering from either cleft lip or cleft palate disorders. Living with one of these disorders can be very difficult as many of these kids have trouble eating, sleeping, and living without public ridicule and isolation. SmileTrain along with their partners worldwide have worked to make cleft lip and left palate disorders a thing of the past so that these children can grow up and be part of society. To date, SmileTrain has provided 975 THOUSAND smiles and have managed to achieve these life changing surgeries for a mere $250 dollars. If you would like to learn more about the organization and how to donate, visit their website.
The primary goal of the SmileTrain Virtual Surgery Simulator is to provide professionals word wide with a tool for proper cleft lip and cleft palate surgery. In the developing world, cleft surgeons often do not have access to the latest techniques and updated protocols for cleft surgery. Lacking access to such knowledge and materials can be a barrier to continuing education and quality improvement. A free online resource easily accessible to anyone with a computer allows for an effective distribution of knowledge.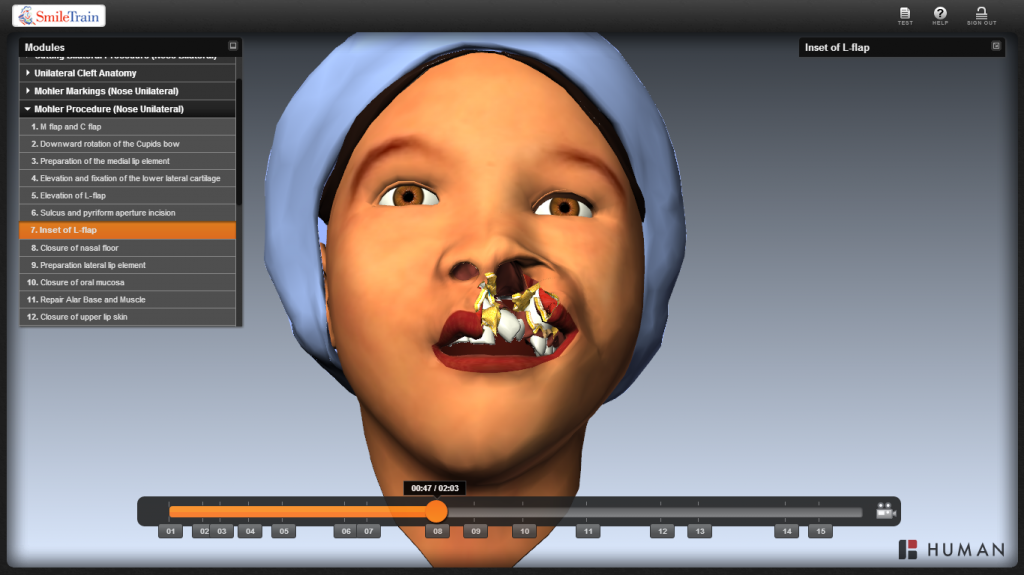 This tool is also a great resource for pre-dental students who are interested in complicated cases such as cleft lip and cleft palate surgeries. You can follow along with the interactive animated 3D procedures as a surgeon narrates each step. It is an eye opening experience to see the technicality of the procedure and the importance of doing it properly to minimize facial deformity and maximize functionality. This free resource also includes highly detailed 3D models for facial anatomy as well as live surgery footage as you follow along.
BioDigital Human creates EXTREMELY comprehensive 3D anatomy models covering every human system and hundreds of conditions from abdominal pain and acne to Wilms' Tumor and Wrist Injuries and Disorders. I cannot emphasize how detailed their models are, you will just have to check them out for yourself. For example, in the screenshot below, I enabled the entire nervous system along with the addition of the maxillary bone with teeth and mandible with teeth. BioDigital Human's anatomy models are an excellent supplement for an anatomy class during your pre-dental career. This resource is free for educational use.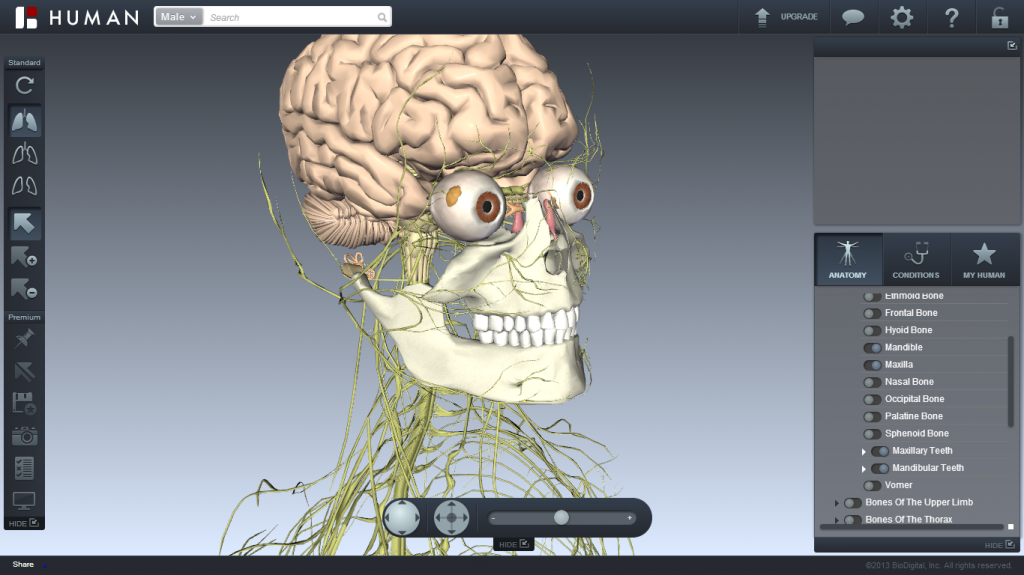 You will have to register to use either online tool, but it is well worth it! Please take the time to check this out!