UPDATE 5/15/2014: DAT Biology Changes Officially Pushed to 2015
Back in October, we announced that the ADA was planning to change the DAT starting in 2014. The changes focused on updating the Biology section in 2014 and the Quantitative Reasoning section in 2015. Other than a short description, no other detail was provided as to what the changes will contain and most importantly, when these changes will take effect.
After some research, it appears that the upcoming changes to the DAT have been planned since early 2012 (or even 2011 although unconfirmed). These changes were focused on  reviewing items and content relative to science courses and science textbooks. New test questions are being developed according to the "Test Item Development Guide". A copy of the guide can be accessed on the ADA website. This guide appears to be National Board Dental Examinations which supports the motion to make the DAT a better predictor of success in dental school. This is NOT to say that questions will be related to dentistry, but that the format for question may shift in the direction of the guide.
I recently acquired some documents directly from the ADA that give us an insight on the future direction of the DAT. The first of these documents is a presentation titled "Update on the Dental Admission Test (DAT)" which was conducted during the ADEA Fall 2013 Meeting. The information about the upcoming changes to the DAT start on page 9 and extend through page 12. We are going to breakdown each of these pages in full detail.
The biggest update from this batch goes to the Quantitative Reasoning section internally referred to as (QRT). As you can see from the image below. Questions related to Data analysis, interpretation and sufficiency, quantitative comparison, probability, and statistics will begin to appear on the DAT starting in 2014. However, the questions will not contribute to your QR/AA scores up through the end of 2015. Starting in 2016, based on the pilot test conducted during 2014-2015, questions in these sections will begin to contribute to your QR/AA scores. This gives plenty of time for students to adapt to the changes and for preparatory material refinement. A presentation from 2012 notes that the ADA originally estimated that the new questions will contribute to scores beginning in 2015. This indicates a year delay in the process as scores are now expected to contribute no earlier than 2016.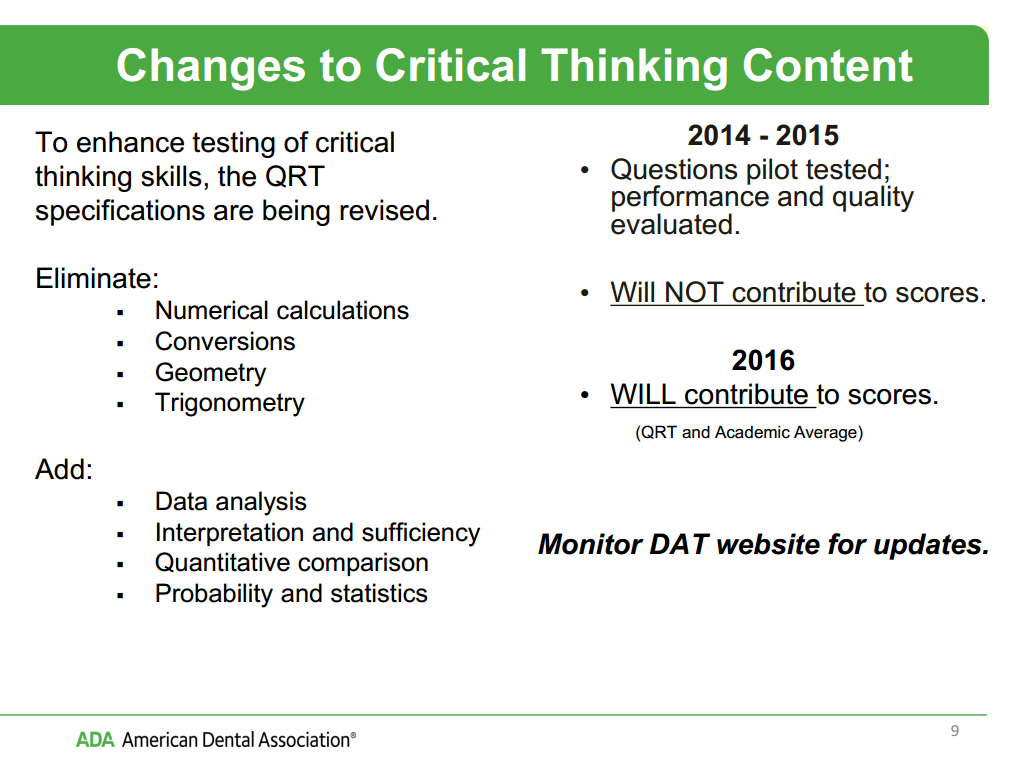 Details on the Biology section have not changed much other than to clarify the window for the biology section. The window has now been extended through 2015. At this point, it is likely that any changes that will occur to the DAT will be near the end of 2014. Time to take a breath! There is plenty of time to take the current DAT without any worry of changes.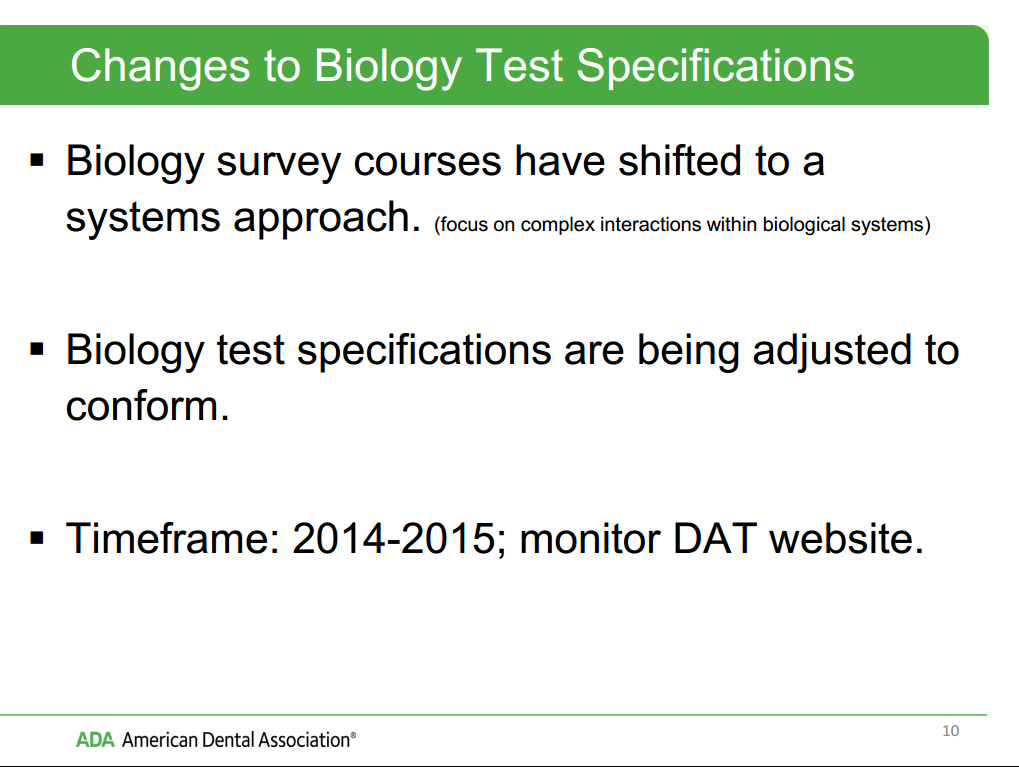 The third picture indicates that the changes are still being developed and refined and that all new items will be pre-tested and reviewed, revised or retired. This indicates that the Biology Section may see a similar pilot  test but in a shorter timeframe.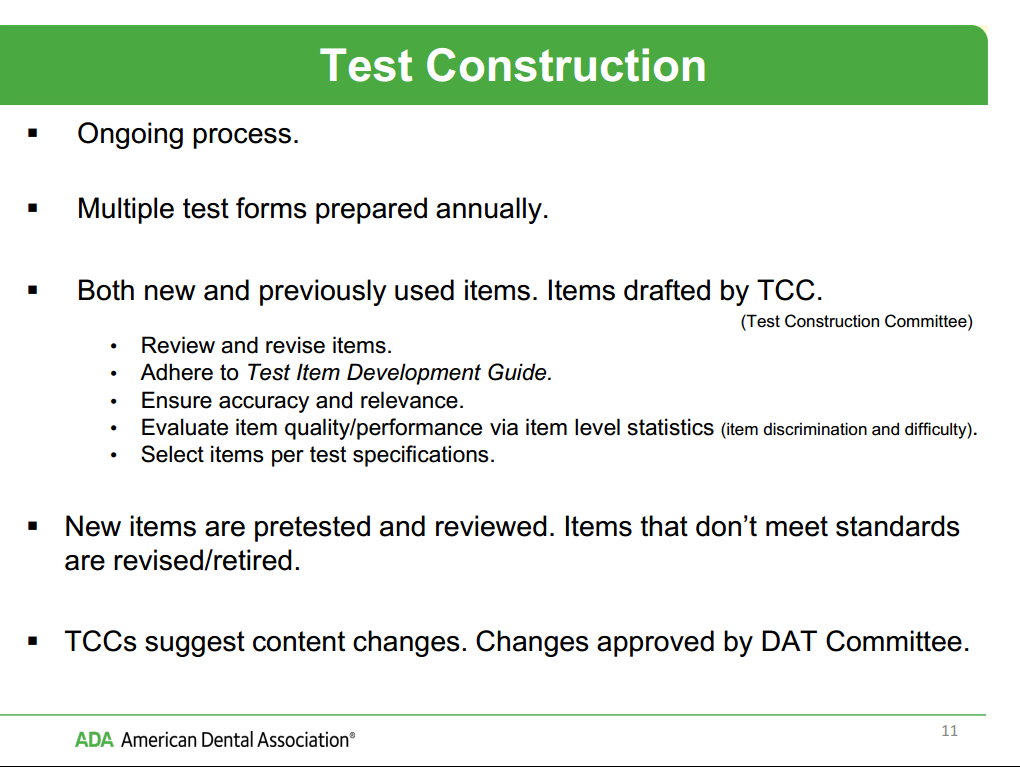 This fourth image is a bit more unclear. Test Construction Committee (TCC) is the group of individuals responsible for drafting new items as indicated in the previous image. This image shows a "sample representation" indicated by names of universities. I interpret this as one of two ways. Either faculty members at these universities are working to add new content to the DAT or that the pilot test will begin at (or near) these locations. I am inclined to believe it is a list of members involved in the revision process.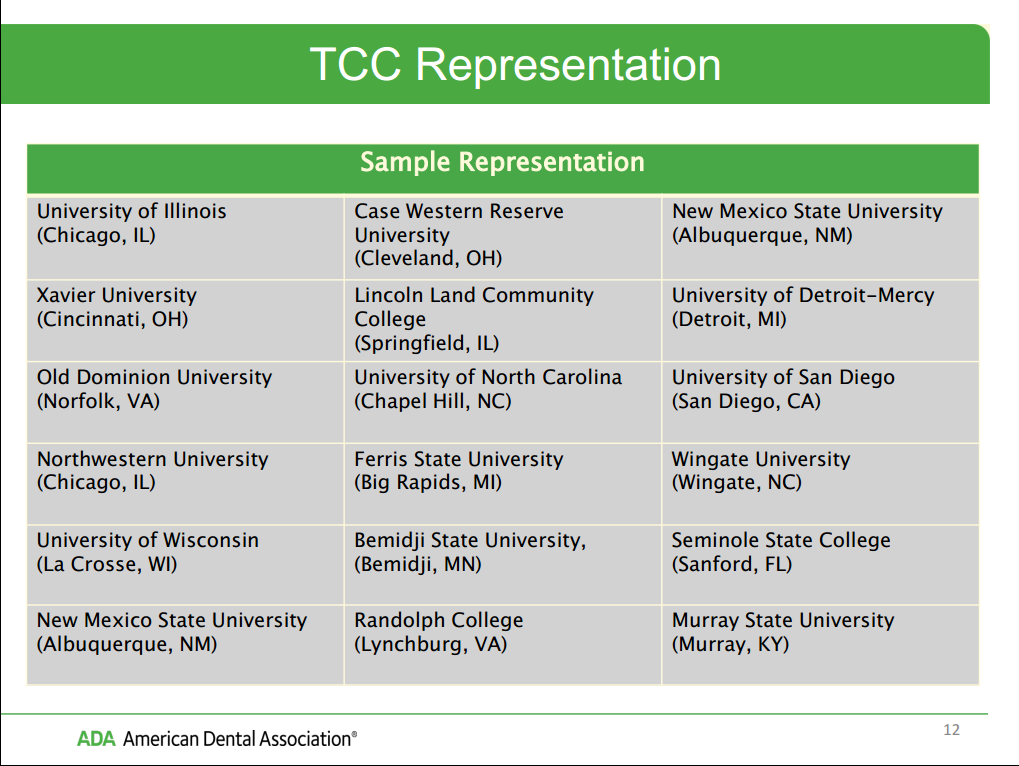 The remainder of the power-point covers post-test survey results as several graphs comparing 2012 to previous years. It appears that over the past 5 years the "apply early" message has been taken very seriously. The graph on page 22 shows a steady increase in tests taken in June and July and a steady decline in tests taken in August, September, and October.
You can download a copy of the DAT Update 2013 Presentation Here
In addition to this presentation, we have also gained access to an FAQ by Kaplan regarding the upcoming changes. I have bolded any interesting components.
DAT Test Changes in 2016
Changes to Quantitative Reasoning
Why is this section changing? 
The ADA wants this section to require more critical thinking. The changes will eliminate some of the easiest questions (numerical calculations and conversions) as well as some content that is not deemed to be critical for success in dental or optometry school (geometry and trig). These questions will be replaced with additional Probability & Statistics questions, presumably of higher difficulty, as well as new critical thinking question types that sound like the quantitative question types on the GMAT and GRE.
What is changing specifically? 
First, all questions from the following categories will be eliminated: Numerical Calculations, Conversions, Geometry, and Trigonometry. These questions will be replaced with more Probability & Statistics as well as the following new question types: Data Analysis, Interpretation & Sufficiency, and Quantitative Comparison.
When will the changes occur? 
In 2014-2015, the DAT and possibly the OAT will pilot experimental items for these questions, though it is currently unclear when exactly these items will begin being piloted and how they will be tested (i.e., whether they will be included within the current section or will be identified as experimental). These questions will not count toward student scores in 2014-2015. The ADA plans to have the full new Quantitative Reasoning section scored beginning in 2016.
How should students prepare for these changes?
Students should continue to prepare for the current version of the DAT & OAT. They may see experimental items on their tests in 2014-2015, but those items will not count toward their score, so students do not need to worry. Once the changes are finalized and an official launch date is announced for 2016, the Kaplan course will be updated to prepare students for the new test content and question types. We will always ensure that our course aligns with the current or immediately upcoming test blueprint.
Changes to Biology
Why is this section changing? 
The ADA notes that college-level biology courses take more of a systems approach, focusing on complex interactions within biology systems. This does not align with the way the Biology subsection of the DAT & OAT tests content. The ADA wants the section to more closely match what students are learning in their introductory biology courses.
What is changing specifically? 
It is not yet known how the changes will impact the section. It may be as minor as changing the way that some questions are asked or may include more substantial changes to the test blueprint.
When will the changes occur? 
The ADA is targeting sometime in 2014-2015, but a specific timeline has not yet been determined.
How should students prepare for these changes?
The test is changing to better align with what students are already learning in their undergraduate courses, so this change should be beneficial to most students. The Kaplan course already teaches biology content using a systems approach, so students will be prepared for both the current test and any upcoming changes. That said, it may be advantageous for students who are already ready to test to take their test sooner rather than later in case any of the changes result in higher difficulty questions.
You can download a copy of the DAT Update FAQ Here
2013 Presentation Source: http://www.ada.org/sections/educationAndCareers/pdfs/adea_presentation_datupdate_2013.pdf
Archived Resources:
DAT Update 2012
Test Item Development Guide