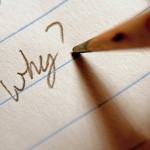 Right after I tell somebody I aspire to become a dentist, I always get the same question, "Why Dentistry?" This may not sound like an important thing to worry about when friends or relatives ask you, but you need to realize that this question is inevitable when it is time for dental school interviews. Every school you interview at will ask this question to see what a career in dentistry means to you. If your answer is botched up, it could significantly hurt your chances.
Every time I get asked this question, I try to compose an answer that is honest and maintains the asker's interest by balancing its length. This can be a very difficult task as the question is complicated to answer. In essence, its just like asking a pre-dental student, "Why are you dedicating the rest of your working life to dentistry. What gives you the confidence that you can do this for 30+ years and still be interested in it?" When put like this, one realizes how important it is to have an answer to this question that not only is sufficient for others but is also good enough for you.
When I get asked this quesiton, many reasons come to mind, but I have a difficult time putting my answer together into cohesive sentences. I get sporadic thoughts about all the things I want to mention. My solution to this issue is to tell a variant of my story in which I add more detail, take some out or just plainly omit areas completely. I look for signs that help me gauge my performance in answering the question. Sometimes it works better than others and I even get compliments like, "Wow I could really feel the passion from that answer!" For everyone interested in becoming a dentist, it is important to have an answer to this question that is ready in time for dental school interviews. That is why I recommend to treat every time somebody asks this question as if you are being interviewed for a seat at your dream dental school as one of their students.
Writing down your answer to the question can really help structure your answer when you are asked by someone.  I would advise everybody to start with a little exercise in which they brainstorm their answer. The following example, is something I wrote last week as the backbone to my answer:
I have had interest in becoming a dentist since elementary school. As I matured, I found most of my hobbies involved working on very small electronic parts that challenged me and my dexterity. These tasks never get boring to me as I could always improve my skills by producing better work and quicker. This helped me realize in high school that I wanted to "test the waters" on careers involving fine motor skills. The top career on my list was dentistry as I found it to fit my interests the best. As a dentist, one is their own boss, owns their own business, is part of the medical field, and most importantly to me, challenges motor skills.

During my junior year in high school, I was given the opportunity to shadow a prosthodontist for several days. I was so excited by my experiences that I immediately enrolled in dental assisting courses and I ended up working at the same prosthodontist where I became convinced that my dream is to become a dentist.

I knew dentistry is what I wanted to do with my life after one experience in particular. Shortly after receiving a brand new set of dentures from the lab, we gave them to the new owner, an old lady. Her previous dentures were severely worn out to the point that the back teeth were indistinguishable from the pink of the palatal plate. I watched her eyes light up the moment the new dentures seated in her mouth. Something as simple as dentures changed the shape of her face and got rid of the slur she had with her worn down dentures. I watched her face glow with happiness and excitement when she recognized she can finally eat food again. It felt spectacular to be in that room along with the dentist and that experience puts a smile on my face every time I think about it.

Since then, I knew, for sure, that I wanted to be a dentist. I had realized how important our teeth are to us as they affect so many aspects of our lives. I have been working at the same practice ever since whenever I am home on break.
This write up does not need to be perfect. The exercise is designed to "outline" what is important to your story and to help you stay on focus when telling your story to others. It is not meant to be memorized and regurgitated. Here are some key points of my story that together show my interest in dentistry:
I mentioned my interest working with my hands.
I looked into career choices and saw what appealed to me in dentistry
Experienced dentistry by shadowing
Took the initiative and started working as a dental assistant
Memorable experience that explains the joy dentistry gives me
This write-up can also act as a template for your personal statement for the AADSAS application (Associated American Dental Schools Application Service). The prompt is:
Your Personal Statement should address why you desire to pursue a dental education and how a dental degree contributes to your personal and professional goals.
If you have an answer written up and you would like to have me look over it, post it in the comments section or email it to me if you prefer not to publish it. I would love to review it and give you suggestions.