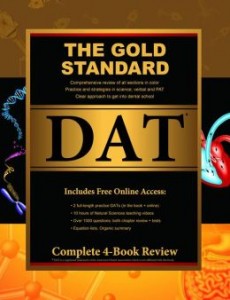 One of the most important and influential parts of a pre-dental student's application to dental school is their performance on the Dental Admissions Test commonly referred to as the DAT.
The DAT is a computerized multiple choice exam required for admission into US dental schools. The exam consists of 4 sections. The natural sciences section of 100 questions is divided into 3 sub-sections: biology (40 questions), general chemistry (30 questions), and organic chemistry (30 questions). Perceptual ability (also referred to as the PAT) is composed of 90 three-dimensional puzzles equally divided into 6 types of questions:keyholes, top-front-end, angle ranking, hole punching, cube counting, and pattern folding. The reading comprehension section is composed of 50 questions divided across three passages. The final section is referred to as the quantitative reasoning section which covers various types of math based problems in 40 questions. While the material is not too difficult, one of the challenges of the DAT is time management.
The DAT alongside an applicant's GPA help rank a pre-dental student based on their academic performance. It is common to hear that a strong DAT score makes up for a poor GPA and vice versa. While that may be true to a certain degree, I believe that both highlight different aspects of an applicant and their academic achievements.
A DAT score shows how well one understands core concepts and can do so under the pressure of a short time limit. Much of the material tested on the DAT is based on pre-requisite courses. Since not all universities are similar in the classes that are emphasized or heavily graded, the DAT serves as an equalizer in comparing student performance on a standardized level. This can be useful to admissions to see if a GPA is inflated or deflated when comparing two applicants coming from different schools. With the amount of material and information needed to prepare for the DAT, one might question the purpose of learning material that will not necessarily be applied for dental school. However, besides being an instrument to compare student performance, the DAT lets admissions see how much one can absorb, understand, and retain information in a short period of time.
The DAT also serves the role in detailing an applicant's ability visualize in three-dimensions which can be helpful in becoming a dentist. The skills used on the PAT are very similar to the ones used in the clinical side of dentistry. While practicing dentistry there will be many instances where perception is integral in successfully completing a procedure. Diagnosing a three dimensional mouth using a two-dimension projection on film requires a dentist to be able to use the context clues of the radiograph to determine the actual location of the irregularity. There are many procedures that have little visual context and a dentist must be able to visualize their working environment which they may not directly see. Applicants with good PAT scores have been correlated to higher clinical expertise, although the study cited does emphasise that it is a weak correlation.
On the other hand, GPA shows a student's potential in long term academic endurance. With the heavy amount of material that is taught in dental school, a consistently strong academic performance shows that one can handle the course load during the four years in dental school. While a strong DAT score shows how much information one can absorb in a short time period, a consistent GPA illustrates a student's hard work and persistence that are attributes necessary for dental school.
Each section of the DAT is given its own score and scoring 20 and above in all categories puts an applicant in a good position. The sciences are further broken down into subsections and the average of all scores excluding the perceptual ability test are calculated as an Academic Average.
Biology (Bio) – Score based on the 40 biology questions.

General Chemistry (GC) – Score based on the 30 general chemistry questions.

Organic Chemistry (OC) – Score based on the 30 organic chemistry questions.

Total Science (TS) – Score based on the 100 questions in the above categories. It is not an average of the three scores since biology has more questions and as a result carries more merit in this calculation. 90 Minutes.

Perceptual Ability (PAT) – Score based on the 90 perception puzzles. There are no individual section scores. 60 Minutes.

Reading Comprehension (RC) – Score based on the reading comprehension section. 60 Minutes.

Quantitative Reasoning (QR) – Score based on the quantitative reasoning (math) section. 45 Minutes.

Academic Average (AA) – The average of all 5 scores (excluding PAT).
Part 2 of this series will cover the resources I used to study for the DAT and what I have learned over the past month of studying.