This past weekend the CDA ran a free clinic titled CDA Cares at Cal Expo in Sacramento, CA. CDA Cares is a collaborative effort between the California Dental Association (CDA), the CDA Foundation, the Missions of Mercy, and the dozens of sponsors of the event. CDA Cares strives to provide free dental care to Californians in need.

Stephen O'Donnell, the president of the Pre-Dental Society at UC Irvine, and I volunteered both days at the clinic in every way we could. Throughout the two days we got the opportunity to guide patients around, assist with hygiene and extractions, and take x-rays. The event was an excellent place for pre-dental students to network, learn, and have a great time with other dental professionals. Volunteers kept the atmosphere cheery and efficiently worked to achieve a organization record breaking 1,100+ treated patients per day. This is truly an AMAZING accomplishment! To put that into perspective, the organization typically averages 1,500 patients across two days.
Throughout the experience, we met amazing new people like Dr. Craig S. Yarborough, the Associate Dean of the University of the Pacific Dental School, ran into old acquaintances, and got to work with dental companies who sponsored the event. We were shocked to see that while there were hundreds of dental professionals hard at work, there were hundreds more of volunteers who had no relation to dentistry and attended the event for the benefit of the community. Everybody was working together so efficiently!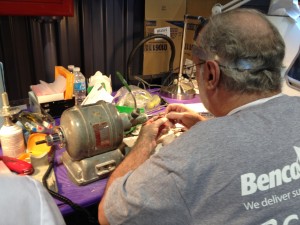 Volunteering at this clinic has really opened up my eyes as to how many people in California do not have access to dental care. It is estimated that one in three individuals in California do not have access to dental care. We have learned through this experiences that some of these individuals truly care about their oral hygiene and will go to great lengths to get the dental help they need. Many of these people waited outside of Cal Expo for OVER 24 hours in order to get dental treatment.
If you get the chance, we would highly encourage coming out to one of these events so you can experience it firsthand. Everybody is friendly and you will not be asked to do anything you do not feel comfortable doing. If there is anything you have never done before, all you have to do is ask and most doctors will get a thrill out of getting to teach a future dental student a few pointers.
If you are interested in participating in a future event we plan to keep all PDS Irvine members updated by posting these events on the facebook group page. To Check out more photos from this event please visit our photo gallery for the event!